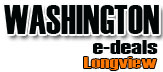 Your cart is currently empty
Sale Item
Three Rivers Eye Care – Dry Eye Eval and Lipiflow
On average, 85% of dry eye is caused by your oil glands in your lid being clogged or obstructed in some way…. This is a condition that is most common seen and treated during our workups by Dr. Laulainen at Three Rivers Eye Care.
The good news is there is a treatment for this called Lipiflow.
Lipiflow is the only FDA approved procedure to clear your glands, by gently heating up the eyelids and the glands, and then removing the blockages allowing your natural oil to flow.
The lack of oil is what leads to chronic dry eye, and the only replacement for oil is eye drops when your eyes aren't able to produce their own, which is why drops feel good, but offer any sustained relief.
This is an in office procedure that is done routinely in as little as 15 minutes.
How clear is your vision? Three Rivers Eye Care is the leading provider of optometry services and vision care products in the Kelso community, and we want to help you achieve and maintain a clear vision for years to come.
Three Rivers Eye Care 209 W Main St. Suite 100 Kelso, WA 98626
Phone (360) 414-8000