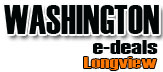 Your cart is currently empty
Unity Computer Lenses are ideal for those patients working on a computer throughout the day, especially those working with multiple monitors. It is the best occupational solution for those that are moving around their work place throughout the day. These lenses feature on glare that will help block harmful blue light and provides protection against scratches, smudge, and dust.
How clear is your vision? Three Rivers Eye Care is the leading provider of optometry services and vision care products in the Kelso community, and we want to help you achieve and maintain a clear vision for years to come.
Three Rivers Eye Care 209 W Main St. Suite 100 Kelso, WA 98626
Phone (360) 414-8000