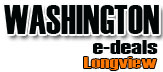 Your cart is currently empty
Sale Item
6 Month Unlimited Group WOD membership- RETAIL VALUE OF $780.00
** Good for new members or past members - NOT current members
CrossFit is a strength and conditioning program that combines exercises cardiovascular movements like running, rowing, power and olympic weightlifting, gymnastics, kettlebells, jumpropes and even tire flipping into short, intense workouts..
Check out FOE Crossfit today at:
1112 12th Ave.
Longview, WA
360 353 5383
At FOE Crossfit our program is for everyone! By simply altering load and intensity, we use the same program to train both the housewife and the firefighter. The best results come from working at the edge of your physiological and psychological capacity. Unlike a traditional gym, a coach will be guiding you at all times to ensure safety, technique, and effectiveness, and will adapt each workout to your ability. Regardless of what your physical fitness level is currently, it is quite likely that we will first challenge, then improve that level of fitness.
There is no specialty diet, mix drink, potions, gimmicks or overnight transformations. THERE IS NO EASY WAY. You will work harder than you've ever worked before, have more fun working out than you ever have before, and see results equal to the effort you invest. Get comfortable with being Uncomfortable! FOE Crossfit, 1112 12th Ave in Downtown Longview, call 353-5383.