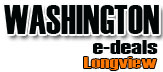 Your cart is currently empty
Sale Item
Get personalized training with Cody Moss 2 times a week for three months at Smart and Fit Fitness Studio in Longview. Get a plan in place for your goals, and recieve encouragement and motivation along the way!

Cody Moss is a Professional Fitness Trainer working out of Smart and Fit Fitness Studio on 15th Avenue in Longview.
Cody has trained all skill levels, from people who are new to fitness all the way up to professional boxing athletes.
Give Cody a call at 360.520.6163 for a Fitness Consultation.