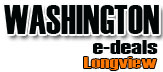 Your cart is currently empty
Sale Item
Shade Maidens Hair Salon is on Commerce, across from the Urban Saloon, and is a premier carrier of Kevin Murphy hair products.
As always, Shade Maiden's has the products and experience to achieve any shade imaginable- and now, they've expanded to include esthetician services as well!
Call or message The Maiden's on Facebook to make an appointment.