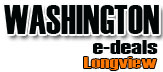 Your cart is currently empty
Sale Item
$30 Gift Certificates for Merchandise
Note: Good for One Certificate with each Purchase only.


J.C. Powers opened his men's fashion store, The Outfitter, June 1 on Commerce Avenue in Downtown Longview.
He said he likes clothing "that makes you feel comfortable but also says enough about you — but not too much."

Tons of Cool Jeans, T-Shirts and Sportswear from Tommy Bahama.

1230 Commerce Ave Longview, WA 98632
360-353-5092