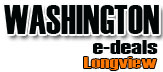 Your cart is currently empty
Sale Item
JET MODEL 577101 BENCH GRINDER - $225.00 VALUE!
For shops that may be short on space, a cast iron JET Bench Grinder delivers work power and pristine finishes. Built to withstand the high-volume demands of even the busiest shops, this high-quality machine grinds, sharpens and smoothes with equal precision and flawless results.
Turn to C&H Industrial Tool & Supply, Inc. for all your industrial tool repair and service needs. You can trust a family-owned business with over 40 years of experience to professionally service your abrassive cutting tools, hoist and pullers and other industrial tools. C&H is also your destination for outboard motor service and repair. In Longview at 1160 Third Avenue.
1160 Third Avenue
Longview
360-423-6496