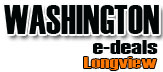 Your cart is currently empty
$20 GIFT CERTIFICATES GOOD FOR PIZZA, BREAD STICKS, LUNCH BUFFET AND MORE!
You'll find the best pizza in the area at Hometown Pizza in Rainier! The whole pizza is delicious including our crust which we brush with a homemade garlic and herb sauce. They also have a fresh weekday lunch buffet from 11 am until 2 pm, pizza, salad and a drink for only $7.50!
109 East A Street
Rainier, OR 97048
503-556-3700