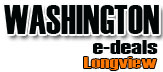 Your cart is currently empty
Sale Item
FLYING PIG ARTISAN BAKERY- CUSTOM ORDER CERTIFICATE- $40.00 value, BUT IT NOW PRICE $20.00
Good towards custom order such as cake, pies, party platters, cupcakes.
The Flying Pig bakery is a family owned and operated business. We offer a variety of organic homemade breads, pastries, and more!
4503 Ocean Beach Hwy suite 105 Longview, Washington, WA 98632
(360) 423-3341
Hours:
Monday-Friday 7:00 a.m. to 3: p.m.
Saturday: 9:00 am to 1:00 pm
Facebook reviews:
"I have bought several sweets, bread and now some pies for the holidays and everything has been so delicious. The staff is really friendly and the prices are good for the quality goodies that you get. If you haven't been in this bakery, you need to go!"
"I went in on a whim, just to see what they had. The first thing that hit me was the DELICIOUS smells of their baked goods in the store front. GREAT lemon bars, snicker doodles and gluten free chocolate chip cookies. I only wish I had gotten more! These people can BAKE! 5 out of 5 stars for sure!"
No Cash Back, Not reedemable with other offers--